USB Twinax Emulation Kit
for Windows 10, Windows 8 & Windows 7 (32-bit & 64-bit) & XP
5250 USB Twinax Emulation Kit
The ONLY 5250 Twinax Emulation Kit
for 64-bit Windows 10, Windows 8 & 7
Overview
Built on NLynx's proven Twinax technology

Works with any PC with a USB 2.0 Port (or higher)

Plug and play

Easy configuration

Full Featured 5250 Emulation

Supports Windows 10, Windows 8 & Windows 7 32- and 64-bit

Twinax System Console Replacement - Allow local and remote access (via Remote Desktop or similar)
The USB Twinax Kit provides 5250 display and printer emulation and convenient Twinax access to your iSeries AS/400, Advanced/36 and System 36.
Click here to download the USB Twinax Datasheet
USB Twinax Kit

for 5250 Terminal and Printer Emulation

The USB Twinax Kit is a hardware/software package that provides powerful, flexible local 5250 terminal and printer emulation for any Windows environment. By using a standard USB connection you can connect the PC via Twinax just as you would with a standard Twinax Workstation. With the included OmniTerm/ES 5250 Emulation Software you can emulate a variety of 5250 terminal types and IBM midrange printers.

Because it connects with a USB connection, there is no possibility of any hardware conflicts. Also, you can connect it to any PC, laptop or Thin Client Terminal (with proper operating system) with no need to physically open the unit.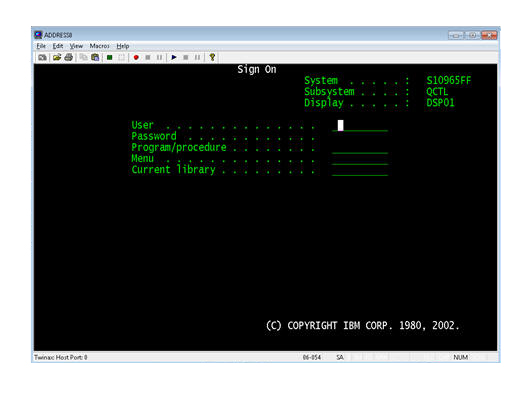 In fact, it's a great option to use as a Twinax System Console. You can even access it remotely with programs such as LogMeIn, Team Viewer, Microsoft Remote Desktop, etc. giving you access to your System Console from anywhere. Click here for more information on using the USB Twinax Kit as a Twinax System Console.
Features
USB Connection - Connects to PC with a standard USB cable eliminating any internal hardware IRQ configuration headaches.
NOTE: Click here for the updated Windows Device Driver for the USB Emulation Kit.
NOTE: Click here for Windows XP Device Driver V2.08.14 for the USB Emulation Kit

Multiple Display/Printer Session Support - A single PC can run up to seven sessions concurrently. iSeries and AS/36 data entry, batch processing, print jobs, and PC resident software can be run simultaneously.

Multiple Printer Sessions - Choose from a variety of popular printers supported by the PC. Up to three 5250 printer sessions are supported at any one time, each running independently while another host or PC application is active.

Optional AS/400 style 24-command key PC/5250 keyboard - Will work both with the PC as PC keyboard and with the 5250 Terminal Emulation as a 24-command key AS/400 keyboard. The users would be instantly familiar with it as it is the same layout they are using on their Twinax terminals.

ETU file transfer support - ETU (Enhanced Transfer Utility), is an industry standard optional file transfer program for installation on System i, iSeries AS/400, AS/36, and System/36. It allows direct bi-directional file transfer between the IBM Host System and a PC equipped with an NLynx 5250 Emulation product such as ES/PCI, OmniTerm/ES or USB Twinax Emulation Kit.
Click here for information on purchasing ETU File Transfer Software.

Hotspots identify host menu items - Host menu items and function keys can be assigned colors. Employ this aesthetic and intuitive approach to locate them quickly and easily.

Keystroke memory and playback (macros) - Predefine keystrokes for automated sign-on, repetitive data entry, or unattended operation. Store as many as 2,048 keystrokes in up to 24 keyboard macros.

ROHS Compliant - meets all RoHS compliance laws
Click here to receive more information on the USB Twinax Emulation Kit
Click here to download the USB Twinax Datasheet
Additional Features
Drop-down menu support using mouse button.

Keyboard mapping allows easy reconfiguration to support existing keyboards.

Advanced printer support includes Autorotate, Autosize and Host Transform functions. Direct-connect or network-attached printers.

Custom tool bar allows users to create their own easy-to-use buttons for frequently used items, including macros.
PC System Requirements
Microsoft Windows 10 (32/64), Windows 8 (32/64), Windows 7 ( 32/64), Server 2003/2008/2012 (32/64)

Hard disk with 10MB space available

Minimum of 16MB of memory

USB Port (USB 2.0 or higher)
IBM Device
Emulation

Support
Host Displays (80 or 132 column, mono or color):
5251-11; 5291-1/2; 5292-1; 3179-2; 3180-2; 3196; 3197C,D

System Printers:
3812, 5219, 4214, 4210, 5225, 5224 or 5256
The
5250 USB Twinax

Package:
USB Twinax Adapter

32-bit/64-bit emulation software (Download or CD ROM)

Twinax Y-Cable (for Twinax connection to IBM Host)

USB Cable (to connect to PC)
Product Comparison - USB Twinax Emulation Kit vs. BOSaNOVA Plus (6461)
I

TEM

USB Twinax

BOSaNOVA Plus PCI

Windows 10 64-Bit

Yes

No

Windows 10 32-Bit

Yes

Yes

Windows 8 64-Bit

Yes

No

Windows 8 32-Bit

Yes

Yes

Windows 7 64-Bit

Yes

No

Windows 7 32-Bit

Yes

Yes

Display Emulation

Yes

Yes

Printer Emulation

Yes

Yes

Maximum Twinax Sessions

7

4

File Transfer
(Requires Optional Software)

ETU File Transfer

via BOSaNOVA

Simultaneous Twinax and
TN5250e Connectivity

Yes

No

APPC File Transfer

No

Yes

APPC Connectivity

No

Yes

Emulation Software Supports Multiple Twinax

Kits

o

n Same PC

Yes

No

Works with Newest PCs and Notebooks

Yes

No

PC Requirement for Installation

USB Port (2.0 or Higher)

PCI (not PCI-X)
Click here to download the USB Twinax Datasheet
Click here to receive more information on the USB Twinax Emulation Kit

W

arranty

One-year limited warranty.
Related NLynx Products
Click here to receive more information on the NLynx USB Twinax Emulation Kit