MSCS - Multiple System Console Solution
Multiple i5 or iSeries AS400 System Consoles over TCP/IP
Full System Console Control for
Multiple i5s, iSeries AS/400s
or a Combination of AS/400s and LPARs Over a
n IP Connection -

LAN, WAN or Virtual Private Network (VPN)


PLEASE NOTE: The TwiNet SNA Gateway is no longer manufactured. It may be available on a refurbished basis. Please contact us by clicking here regarding your application and requirements. One replacement product to provide connection of multiple network PCs is the TwinetTC IP-to-Twinax Gateway. Models can connect up to 28 Twinax Display and Printer Sessions. Another option is the NLynx USB Twinax Emulation Kit for connecting 1 PC. It is compatible with Windows 10, Windows 8 and Windows 7. Please click here to be taken to the USB Twinax page. Both solutions provide the ability to used as Twinax System consoles, locally or remotely.
Overview
With the TwiNet SNA Gateway you can eliminate the problems of administering the System Console function in a multiple AS/400 environment. The Multiple System Console Solution (MSCS) configuration will make System Console administration of multiple AS/400s as simple as opening a Window on a LAN attached PC.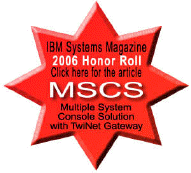 The System Console is typically a "dumb" Twinax Display Station attached to Port 0 / Address 0 of your AS/400 or LPAR. The System Console is the only terminal that can:
Click on image above for more screenshots.
Perform certain System Maintenance and Configuration Procedures (Restricted State)

Execute certain type of System Backups (SAVSYS)

Respond to certain types of "System Console Only" messages
In the multiple system environment, this requires one terminal per AS/400. It also requires that an operator be on site to respond to the message, or perform the particular procedure that can only be executed from the System Console. When the operator is not on site, it usually requires a phone call or a page to a standby operations person who would need to either travel to the office or diagnose the problem over the phone.
TwiNet MSCS will allow these AS/400 or LPAR "System Console Functions" to be handled from anywhere on your LAN, WAN or VPN. This also includes dial-in to a network attached Remote Access Server (RAS) such as a Shiva LanRover or a BOSaNOVA LanLynk. This eliminates the necessity of the AS/400 operator to be at the normal location for the System Console - the computer room.
Featured Highlights
Manage up to 32 separate AS/400s and/or LPARS from a single TCP/IP PC anywhere on your LAN / WAN / VPN

Supports up to seven Twinax Display or Printer sessions (Addresses 0 through 6) on your LAN PCs with the included TwiNet Gold Client Software for each TwiNet Gateway installed

Built-in Web Server for easy installation, configuration and monitoring

Manage all TwiNet's on your local LAN with the included Network Manager administrative software
Click here for More Information on the TwiNet Multiple System Console Solution
Click here for More Information on the TwiNet Multiple System Console Solution
Applications for MSCS with TwiNet
Control Multiple AS/400s or LPARs from a single "System Console"

Control an AS/36 and AS/400 from the same System Console - Allows upgrading from one system to a new system to be more convenient. You can also configure additional sessions from each system, up to seven (7) from each TwiNet SNA Gateway.

Allow a local network PC to be System Console for an AS/400 at a remote location - Improves system operation capabilities at other locations without the need for a system operator.

Allow System Consoles to be anywhere on your LAN/WAN/VPN

Some Features of MSCS with TwiNet
Flexible Twinax connection means increased productivity. The TwiNet solution uses a Twinax connection to the host IBM midrange system which means that it can support the IBM AS/400, System/36, Advanced Series/36 and Twinax Remote Controllers. Since TwiNet provides a single point of contact to the midrange host, there is less configuration and operating overhead, providing better overall host performance.

Simple, intuitive installation and configuration. On the PC side, a single protocol can be used for both LAN and host PCs, and since TwiNet is a native Twinax gateway, it does not require the overhead and configuration complexities of an APPC router. And the TwiNet Gold Client software installs quickly and easily, using industry-standard LAN interfaces.
TwiNet SNA Gateway
| | |
| --- | --- |
| | The picture on the left shows a standard TwiNet installation. The IBM Host can be any S/3X, AS/400 or Remote Control Unit with a Twinax attachment installed. TwiNet can be installed either close to the Host or close to the Clients, using the existing Twinax or UTP cabling very good for long distance connection (up to 5000 feet). |
TwiNet support any Windows'95/98/2000 or NT Client. More technical information is available at the following page: TwiNet Data Sheet.
Technical Specifications
Specification

Description

Operating System

| | |
| --- | --- |
| PC Side: | Windows 7, Vista, 98, 95, 2000, NT, ME |
| Host Side side: | AS/400 - Any Model with Twinax Support |
| | Advanced Series/36: All |
| | System/36: All |

Connectors

1 RJ 45 10BaseT, 100BaseT (auto-sensing)
Twinax Y-Cable with Cable-thru capability for connection to Twinax Host Port

LEDs

Power, Link, 10/100, Check, Alert, Packet and Collision.

Main Power

100-240V AC 50-60Hz

Dimensions

| | | |
| --- | --- | --- |
| Height | 1.85 in. / | 47 mm |
| Width | 8.66 in. / | 220 mm |
| Depth | 5.7 in. / | 144 mm |

Weight

1.65 Lb. / 0.75 Kg.

Temperature and
Relative Humidity

50░ F to 104░ F (10░ C to 40░ C)
8% to 85%

Certifications

CE ?EN 55022 ? EN 50082-1 ? FCC Class A

Warranty

One Year
Click here for More Information on the TwiNet Multiple System Console Solution
Supported Operating Systems -

Windows

7 (64-bit and 32-bit), Vista (64-bit and 32-bit), Windows XP (64-bit and 32-bit), Windows 98,

95, 2000, NT, ME


Download the TwiNet Data Sheet

CompuMaster TwiNet/TwiNetTC Connectivity Products
Form ID 460078
For more information on TwiNet, contact us at 800-597-2525
or e-mail us at info@twindata.com